Welcome to 'What's Happening'
---
Here you can see a regularly updated selection of recently delivered playcentres that we think you will love. We take pride in every one of our products and designs, but now and again we like to draw particular attention to a delivery that really made our day. If they catch your eye as well, just click on any of the images below to be brought directly to the product page for that playcentre.
November 16th, 2020
New Bellwood Cottage (with Swings)

Our New Bellwoods Cottage is one of our latest, premium range creations. Featuring a beautiful elevated playhouse with a slated roof and full length windows with window boxes designed for those aspiring gardeners. The veranda stretching around two side of the playhouse allows for plenty of room for children to play. At customer request, this version of the Bellwoods Cottage has had a wave slide and two item swing set added, giving even more activities to keep children active and occupied all day.
---
October 13th, 2020
Chateau Deluxe with Nest Swing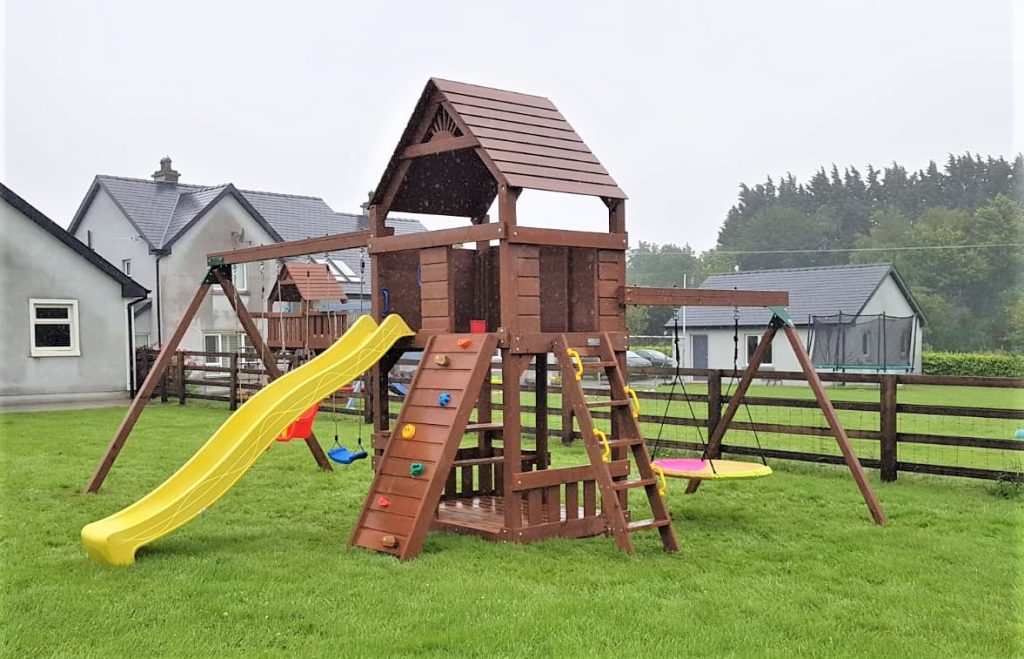 Our Chateau Deluxe playcentre provides a great example of the customisation options available to our customers. One recent customer loved this unit but also wanted to their children to have one of our popular nest swings. All of our units are made to be customised so that, if you love one unit but it doesn't quite meet every need you have, we can work to bring your vision to life.
---
September 23rd, 2020
Custom Built Units
Another of our custom built units. This two-tiered treehouse was designed specifically to suit the requirements of our customer. With a wraparound veranda giving access to a wave slide on one side, a smaller garden can be used to its maximum. We love the challenge of creating a new design to suit our customers needs or ideas. Simply click the picture above to contact us and talk about your creation.
---
September 8th, 2020
Custom Built Units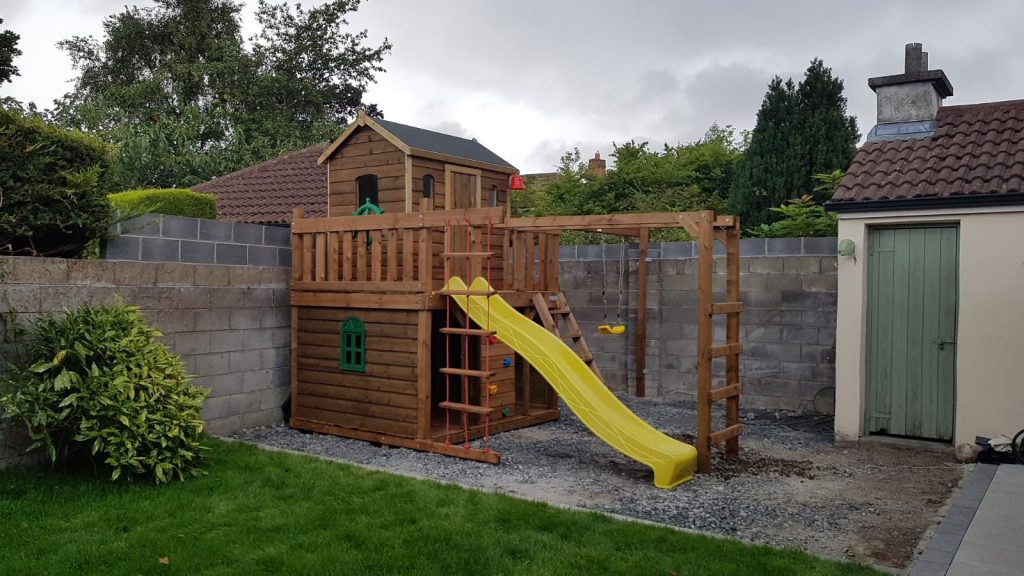 Many of our customers have imagined their own dream playcentre, one that fits perfectly into their garden. We have worked with many customers on creating a unique one-off design that works all the activities they want, into the space they have available. This unit is one such creation. Managing to fit a swing, slide, rope ladder, treehouse and even monkey bars into their space. Click on the image above to contact us about bringing your own dream creation to life.
---
August 25th, 2020
Shane's Place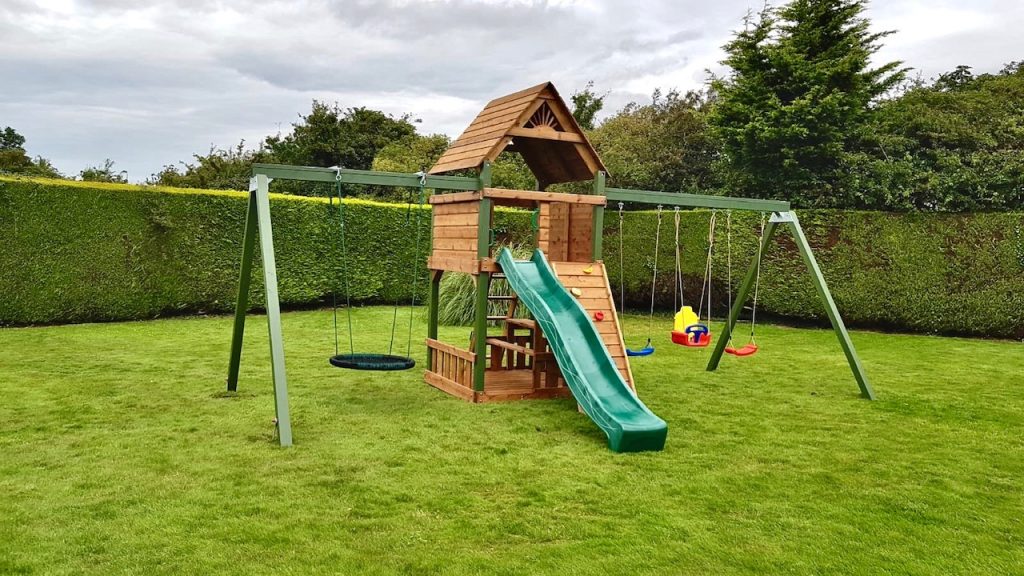 The Shane's Place playcentre is a special creation. Imbuing more colour into the frame allows the playcentre look at home in any garden. Not only does Shane's Place have a three item swing set, another beam is dedicated to a circular nest swing, one of our most popular requests. With plenty of places to swing, in addition to a picnic table tucked beneath the upper deck, where a slide leads back to the ground, means that there's tons of space for your children to play, as well as all of their friends.
---
August 18th, 2020
Tanatone Finish Chateau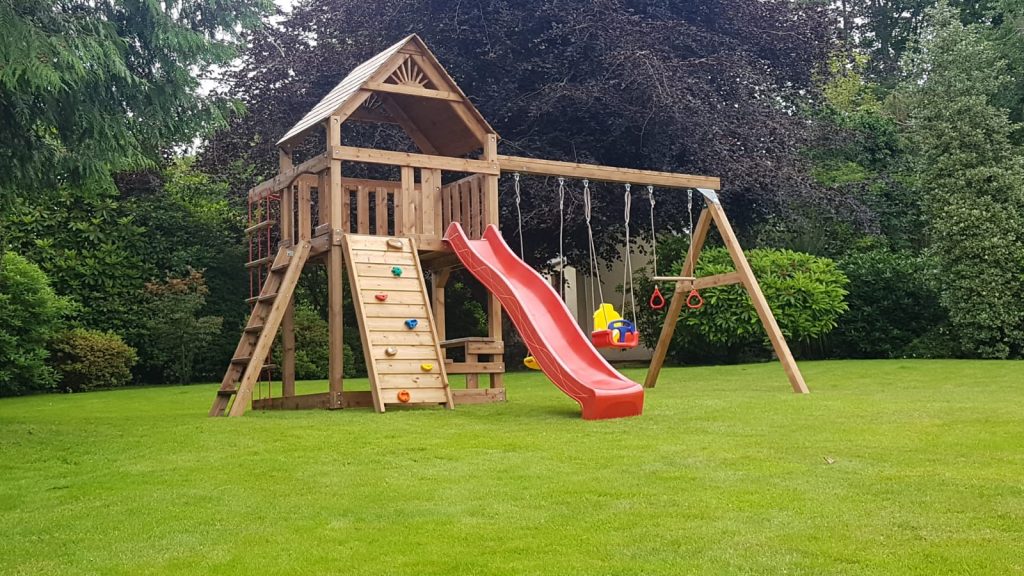 Our most popular playcentre with a new, natural look. Our best selling playcentre is now available in a Tanatone finish. This new look allows the natural beauty of the wood grain to shine through and gives the playcentre a sleek image that looks great in any garden. When ordering, simply request the Tanatone finish, at no extra cost, and we will be happy build your playcentre in this beautiful style.
---
July 30th, 2020
Wacky World Treehouse

We know that not everyone has acres of garden space to work with, but that doesn't mean you can't fit in all the fun of an STT Swings treehouse and playcentre. Our Wacky World treehouse is one of our most popular for just that reason. We've managed to pack in all the entertainment of our treehouse range into a smaller package. Featuring a raised treehouse with a porch leading onto a slide, rock wall and access ladder, we've also managed to squeeze in a two item swing set as well! No matter what space you're working with, we should have the perfect playcentre for you and your children.
---
July 21st, 2020
Hogan's Treehouse

Our Hogan's Treehouse is something a little bit different. This time, the porch outside our treehouse, features a walkway leading to another tower where your kids can enjoy the monkey bar extension leading from the back of the playcentre. Below the treehouse, a two tiered deck provides the perfect space for kids to create their own play area filled with the things they love. The lower deck also serves as a removable lid for a sand pit space below, giving kids even more environments to play with! Of course, the Hogan's treehouse also provides a place for children to swing. Not only that, the added bonus of a punching bag extension, allows your kids to begin training for picking up Ireland's next Olympic gold medals!
---
July 15th, 2020
Treehouse Al

For kids that love to climb! In addition to an upper deck clubhouse with a porch, three item swing set, slide and lower deck, the Treehouse Al provides active kids with a monkey bar extension as well as a combination rope/rock wall. For children that are always looking to test themselves and exlpore at every opportunity, the Treehouse Al is the prefect option