Welcome to 'What's Happening'
---
Here you can see a regularly updated selection of recently delivered playcentres that we think you will love. We take pride in every one of our products and designs, but now and again we like to draw particular attention to a delivery that really made our day. If they catch your eye as well, just click on any of the images below to be brought directly to the product page for that playcentre.
July 30th, 2020
Wacky World Treehouse

We know that not everyone has acres of garden space to work with, but that doesn't mean you can't fit in all the fun of an STT Swings treehouse and playcentre. Our Wacky World treehouse is one of our most popular for just that reason. We've managed to pack in all the entertainment of our treehouse range into a smaller package. Featuring a raised treehouse with a porch leading onto a slide, rock wall and access ladder, we've also managed to squeeze in a two item swing set as well! No matter what space you're working with, we should have the perfect playcentre for you and your children.
---
July 21st, 2020
Hogan's Treehouse

Our Hogan's Treehouse is something a little bit different. This time, the porch outside our treehouse, features a walkway leading to another tower where your kids can enjoy the monkey bar extension leading from the back of the playcentre. Below the treehouse, a two tiered deck provides the perfect space for kids to create their own play area filled with the things they love. The lower deck also serves as a removable lid for a sand pit space below, giving kids even more environments to play with! Of course, the Hogan's treehouse also provides a place for children to swing. Not only that, the added bonus of a punching bag extension, allows your kids to begin training for picking up Ireland's next Olympic gold medals!
---
July 15th, 2020
Treehouse Al

For kids that love to climb! In addition to an upper deck clubhouse with a porch, three item swing set, slide and lower deck, the Treehouse Al provides active kids with a monkey bar extension as well as a combination rope/rock wall. For children that are awlways looking to test themselves and exlpore at every opportunity, the Treehouse Al is the prefect option.
---
July 5th, 2020
Rocky Ranch Treehouse

  
The Rocky Ranch is something special. Not just an elevated treehouse, the playcentre also features a lower deck playhouse providing two spaces that your children can make unique. While a four item swing beam extends from one side of the platform and a monkey bar set from another, children can also make their way to their second tower. There, the tube slide recreates the feeling of a theme park, right in your backyard.
---
June 30th, 2020
Chateau Deluxe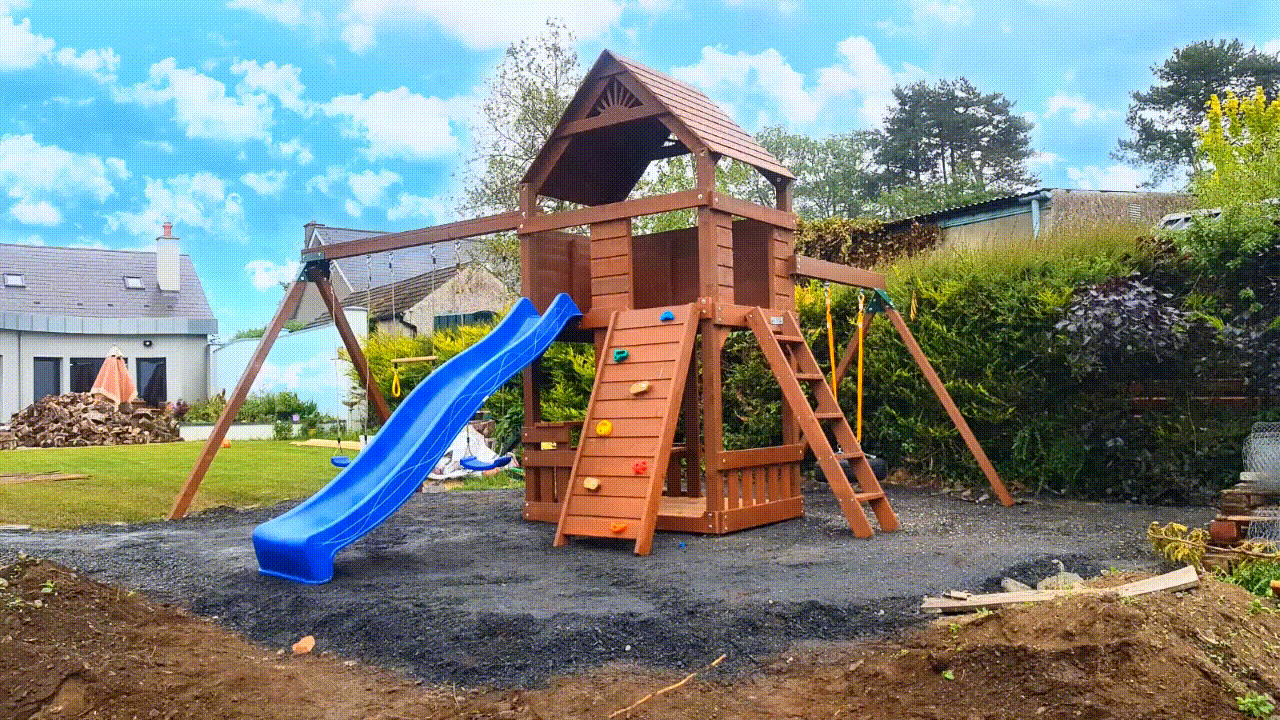 Just delivered, for those that want that bit extra from their playcentre. The Chateau Deluxe comes with everything that makes the Chateau one of our most popular playcentres, and more. In addition to the three item swing set, a second beam provides for the addition of a classic tyre swing, while top floor sheeting and lower floor decking and rails create two distinct and cozy areas for children to make their own.